Salute to Military Night
presented by
Nov. 11 vs. Buffalo Sabres
The St. Louis Blues are proud to partner with Boeing to support America's Veterans and Armed forces at the Military Appreciation Night on Tuesday, Nov. 11 vs. Sabres.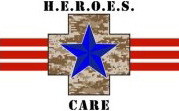 About H.E.R.O.E.S. Care
Four charitable organizations work together to apply the power of passionate compassion on behalf of military families before, during, and after deployment in the communities where they live. Since 2003, H.E.R.O.E.S. Care has provided material, financial, and other support to more than 100,000 military families. Visit
www.heroescare.org
to learn more about the partnership, its members, and its mission.